SCHEDULE YOUR HVAC SERVICE CALL NOW
SCHEDULE YOUR HVAC SERVICE CALL NOW
SCHEDULE YOUR HVAC SERVICE CALL NOW
For Non Emergency Call Backs Only.
Heating Repairs For Your Business In Shreveport-Bossier City.
Are your customers shivering? Are your employees bundled up while they work? That is no good!
As a commercial business owner or manager, you want your customers and employees to be comfortable in your space. Some common heating problems include a blank thermostat, cold air blowing from the vents, a unit that will not come on or cycle off and a strange smell when the unit cycles on. If you have any of these issues, it is time to call Advanced Air Conditioning & Heating.
Our certified technicians will arrive promptly, assess the situation and make the needed repairs as quickly and efficiently as possible. Common parts are carried on our trucks, so most repairs can be completed during just one visit. Although we are a certified Trane dealer, we also service all makes and models of HVAC equipment.
Here in Louisiana, temperatures can change rapidly and with little or no warning. For this reason, we are available 24 hours a day, 365 days a year to ensure your business is kept comfortable. Your satisfaction is always 100% guaranteed.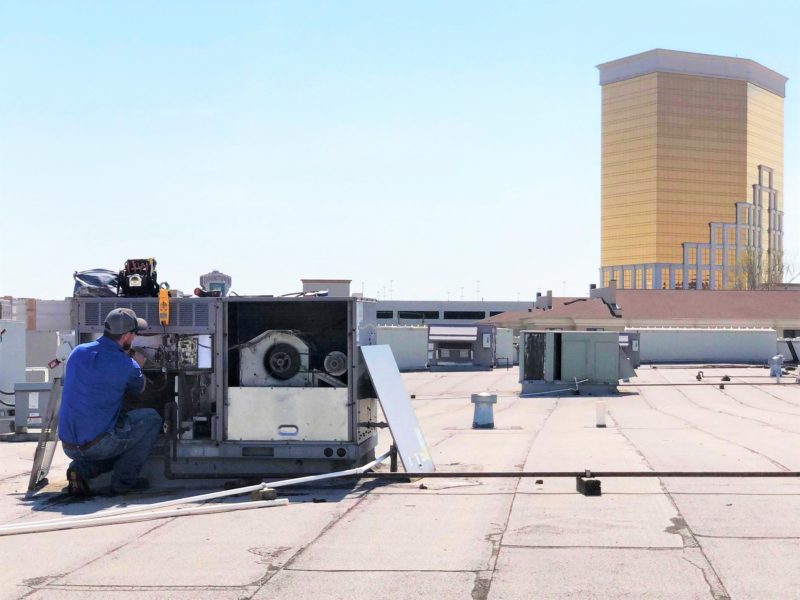 HVAC Emergency Service Lines Open 24/7
If you need air conditioning or heating service over night or on the weekends, our emergency office lines are open, ready to take your call and dispatch your technician as soon as possible.
Call 318-222-KOOL (5665)
TRANE COMFORT SPECIALIST
Advanced Air Conditioning and Heating is a Trane Comfort Specialist-an independent Trane dealer of the highest standing, committed to being the best in every aspect of its business, from installation and service to customer satisfaction and employee training.
Not every dealer qualifies as a Trane Comfort Specialist, but rather only those that meet Trane's stringent standards and demonstrates a commitment to customer satisfaction and continued education. We are committed to keeping up to date with Trane's latest technology, ensuring that you receive a system that is designed to achieve maximum efficiency, reliability and comfort-and a system that delivers the efficiency ratings promised and you expect.