Advanced Air Conditioning and Heating proudly sells residential and commercial Trane products.  Take a look at some of our products below. If you have any questions or don't see what you are looking for, please contact us.
318-222-5665
Air Conditioners
Summer is for relaxing, not battling the heat. A Trane air conditioning system gives you comfort and efficiency, guaranteeing a cooler home all summer long. You can rest comfortably day or night without worrying about your next energy bill.
Heat Pumps
Heat pumps offer a heating solution for homes with no access to natural gas. If you need a reliable, efficient solution for heating and cooling, you're in the right place. As the name suggests, heat pumps move heat from one place to another. Even in air that seems cold, heat energy is present. When it's cold outside, heat pumps extract outside heat and transfer it inside. When it's warm outside, they reverse this process to push unwanted heat outside.
Gas Furnaces
A natural gas furnace converts gas to heat. Gas furnaces are the most popular choice for the majority of modern homes with central heating and air conditioning. Keep in mind, you can only use a gas furnace if you have a gas line hooked up to your home. Trane furnaces are guaranteed to keep your home warmer, your bills lower, and make those winter months a little more enjoyable.
Air Quality
The quality of your air is just as important as the temperature. Add a Trane humidifier or filter to make your air the best it can be. Humidifiers add the right amount of moisture to the air, which can alleviate allergy symptoms. Filters trap dust and other particles making your air clean and fresh.
Thermostats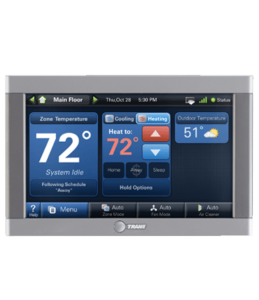 Thermostats can manage your energy use, adjust temperature and humidity levels, turn on and off lights, lock and unlock doors and check your security cameras. All of this can be managed remotely through computers, tablets and most smartphones. So, they really are more than just thermostats. They're the central hub for your home.
TRANE COMFORT SPECIALIST
Advanced Air Conditioning and Heating is a Trane Comfort Specialist-an independent Trane dealer of the highest standing, committed to being the best in every aspect of its business, from installation and service to customer satisfaction and employee training.
Not every dealer qualifies as a Trane Comfort Specialist, but rather only those that meet Trane's stringent standards and demonstrates a commitment to customer satisfaction and continued education. We are committed to keeping up to date with Trane's latest technology, ensuring that you receive a system that is designed to achieve maximum efficiency, reliability and comfort-and a system that delivers the efficiency ratings promised and you expect.